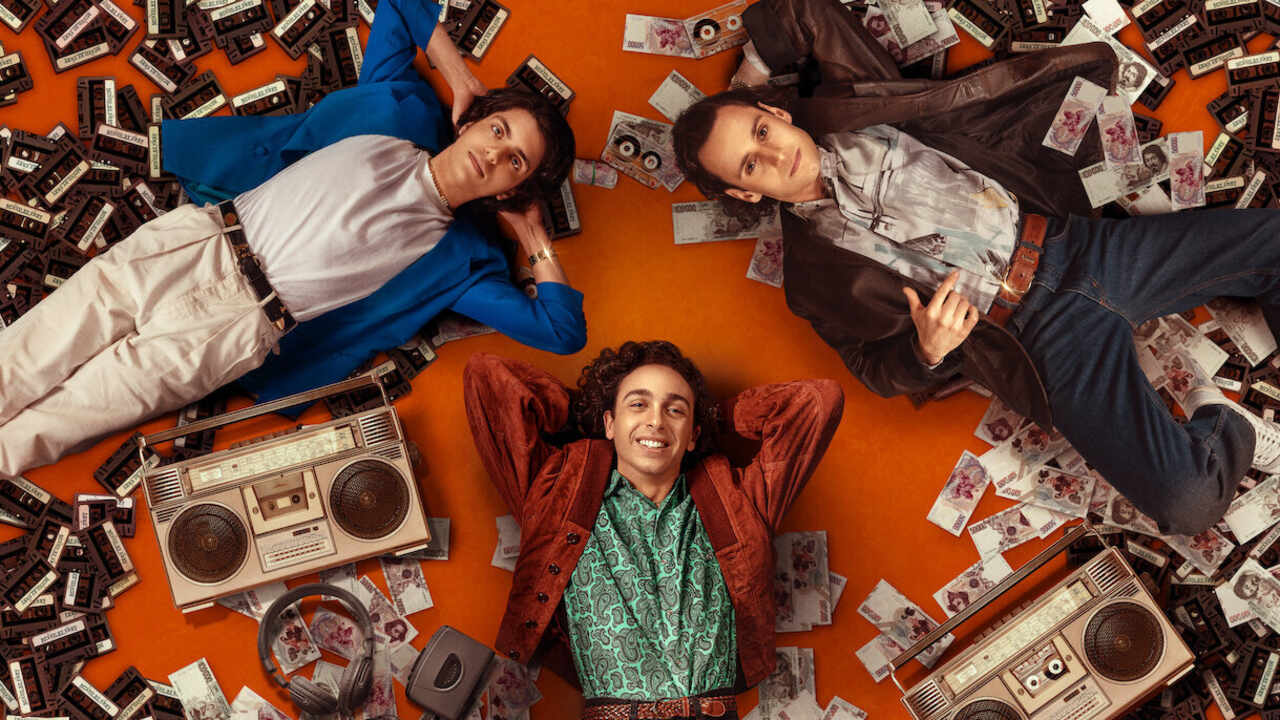 It's 1991, a crowd clamoring inside the jail with three boys being the center of attention. Erry is surrounded by his jail inmates and they're treating him with respect. If you judge his facial expressions and body language, he seems to be an innocent boy. The question which arises at this moment is why is he in jail and why are the others treating him with so much respect.

We're then taken to various years and the story is started from the beginning in 1976 when Marisa received a call from her husband ordering them to make tea. Her husband collects empty Jack Daniels bottles and then fills them up with tea made by his three kids and wife. These bottles are then sold at a heavy discount by making the people believe that it is the actual liquor and not a cheap tea. Pasquale (the husband) and Marisa together have three kids: Peppe is the eldest, Angelo is the youngest, and Enrico is the middle child. Enrico likes music a lot and he works in a record store. Angelo was sentenced to jail with charges of attempted murder and we aren't told much about Peppe.

In 1985, Erry i.e., Enrico becomes jobless after his boss decided upon giving up the shop, but before going he told the boy to start his own business. After coming up with a few ideas with Peppe and his wife, they buy a cassette copying machine worth 7 million and enter into the world of piracy. They tapped into an unexplored market and made huge profits from it. Soon, every stand had a tape from Mixed by Erry. Apart from selling pirated copies, Erry also made his mixtapes as he wanted to be a DJ but that dream couldn't be fulfilled.

In 1987, things start to go bad for their business as the Financial Police starts chasing them. To escape all this, the brothers quickly acted and made shell companies with fake employees. A Police Officer, Ricciardi, wanted to chase them against all odds and posed a big threat to the Frattasio brothers. He wants to arrest them and seize their empire which till then had a huge fan following thus, the respect in the prison. From the first scene, you can easily make out that the police were successful in catching them.

In my opinion, Mixed by Erry had an interesting approach how to tell incidents that happened in reality in Italy. I didn't feel bored or even the thought of it being something better crossed my mind. This 112 minutes film is an interesting one. All the actors like Giuseppe Arena, Emanuele Palumbo, Luigi D'Oriano and others did a great job. The casting of Mixed by Erry is on point and all the events including the manhunt by the Police make the second half of the film crazy. The madness shown in Angelo's eyes was intriguing because it made one believe that he can do anything for the betterment of his family.

Dividing the film into two halves, the first one is about the Frattasio brother rising to fame with their Mixed by Erry cassettes and the second half is about the Financial Police trying to suppress their operations. Think about three boys whose father made money by scamming people, one day they go to a local loan shark for 9 million and after a few days, they come and ask him for 210 million. This shows their ability to run a business which they inherited from their father. If these three brothers have to be described individually then, Angelo is the madman, Erry is the talented one whose creativity is the backbone of their cassette empire, and Peppe is the one with brains, the mastermind of the whole operation.

Coming from a really poor household and after making billions, the Frattasio brothers were still in touch with their roots. Learning the trading skills from their father when they were just young boys, they were born to make a difference. Frattasio brothers copied millions of cassettes worldwide to make a living, an extraordinary one. Sydney Frasca, Armando Festa, and Simnona Frasca have narrated the story in an interesting fashion through which the audience gets entertained as well as educated about Italy's piracy empire. This film is light and fun to watch, and with its fast-paced storytelling, I was completely satisfied because these are the parameters that make a film flop or a hit.

Final Score – [7.5/10]
Reviewed by - Riya Singh
Follow @_riyasinghhh_ on Twitter
Publisher at Midgard Times