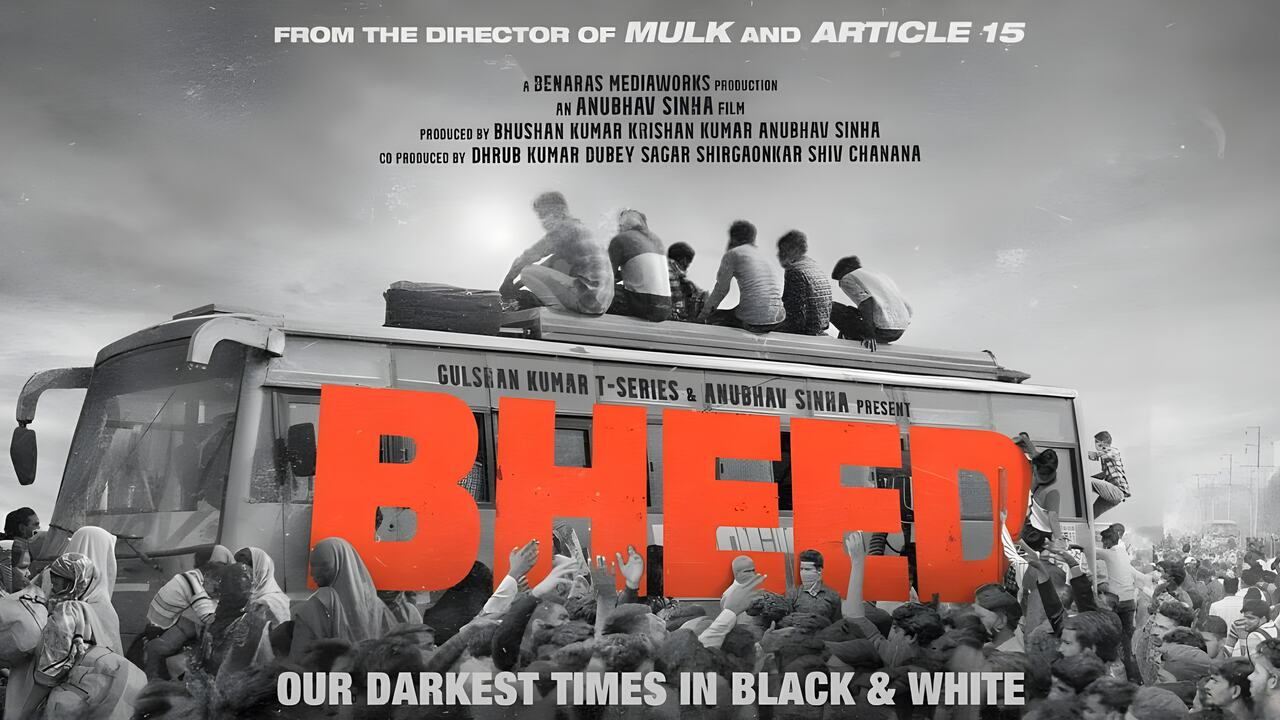 With Bheed, director Anubhav Sinha continues to build his collection of social message movies, which started with Mulk in 2018. Except for Anek, his films (from the social issue category) have been solid and hard-hitting. In Anek, Sinha seemed to be repressing his energy. Every moment felt impersonal and premeditated. Only one scene with hands stretching out from the cages managed to leave a lasting impression on us. But Bheed is as good as Mulk, Thappad, and Article 15. Sinha assures us this film won't be as disappointing as his previous outing from the opening scene.

We are in the early days of lockdown and notice some migrant workers walking on a railway track. One of them mentions that the government has shut down all transportation services, so the group decides to rest on the track. But the movie alerts us to the incoming danger by making us hear the sound of a train. Seconds later, we see a train, and then immediately after this, the camera floats above the body of the sleeping workers. The suggestion is brutal, but Sinha presents it all with grace. This is the approach he follows throughout Bheed. He shows us disturbing incidents, though he never attempts to push our buttons for cheap reactions.

Sinha's camera is powerful and evocative. It brings out the characters' desperation and makes it palpable. It's hard not to gasp in pain at the sight of the workers sitting uncomfortably at the top of a bus or coming out of a container. Sinha doesn't passively record the events. He takes a knife and gently pokes us in the ribs. Like that cameraman character in the film, Sinha always comes up with the right shots to achieve the maximum emotional effect. But unlike him, the director doesn't make sarcastic comments about the situation. Sinha's social issue movies look solid and compelling because he doesn't pass judgments from an ivory tower. He steps into the dirt and plunges us into the belly of crime and injustice. His worlds are alive and lived in, and Sinha also doesn't litter his screenplay with facts to show off how much research he has done.

That's why it's disappointing when the movie occasionally gives a speech. Whenever Bheed focuses on a news reporter (Kritika Kamra), we mostly receive "eye-opening" lines, like the one where she asks one of her colleagues if he is looking at India from her window or his. Even a truck is used to make a distinction between the crowd and society. You feel as if Sinha is making things simpler for - and berating - the simpletons living in the bubble of privilege. Whatever his intentions, this approach lands awkwardly compared to the rest of the film (which is quietly devastating).

Take Inspector Surya Kumar Singh Tikas (Rajkummar Rao) and Renu Sharma (Bhumi Pednekar). These two characters love each other, but since they belong to different castes, they are forced to meet secretly. The other characters often remind Surya of his status. In fact, he tries to hide his identity by removing "Tikas." Surya's arc, then, is about him embracing his roots and bending the rules to deliver real justice. There is a scene where we see him devastated while his body rests on two poles. The visual takes us back to an earlier point in the film where a lower caste man is seen tied to a stick. It's heartbreaking.

Bheed proposes that no matter how enormous the suffering might be, some people won't easily eliminate their biases. Balram Trivedi (Pankaj Kapur) refuses to accept food from a Muslim group, and people blame Muslims for COVID-19. The world might be going through a tragedy, but the line between rich and poor will not erase completely. A mother (Dia Mirza) first uses her driver and then a girl to reach her daughter. She's the kind of person who lives in a bubble and thinks indigent workers come with stronger immunity. But Bheed does not make the mother a villain. It simply uses this character to distinguish between the privileged and the unprivileged.

In the end, every character, no matter what their financial or religious status, suffers due to the pandemic. This uniformity is represented through the black and white frames. Bheed also neatly integrates the issue of fake news and maskless faces into its narrative. The results can be funny, like in the scene where a police officer asks everyone to maintain social distance, and Ram Singh (Aditya Shrivastav) scoffs at the announcement. The decision to not include real-life news clips of politicians could be intentional or unintentional (the censor board has become a nuisance). However, this exclusion ends up making a bold statement. It suggests that those in power who were supposed to care for us were just absent from the disaster. They were invisible, detached from the "bheed," doing god knows what in their ivory towers.

Final Score- [8/10]
Reviewed by - Vikas Yadav
Follow @vikasonorous on Twitter
Publisher at Midgard Times