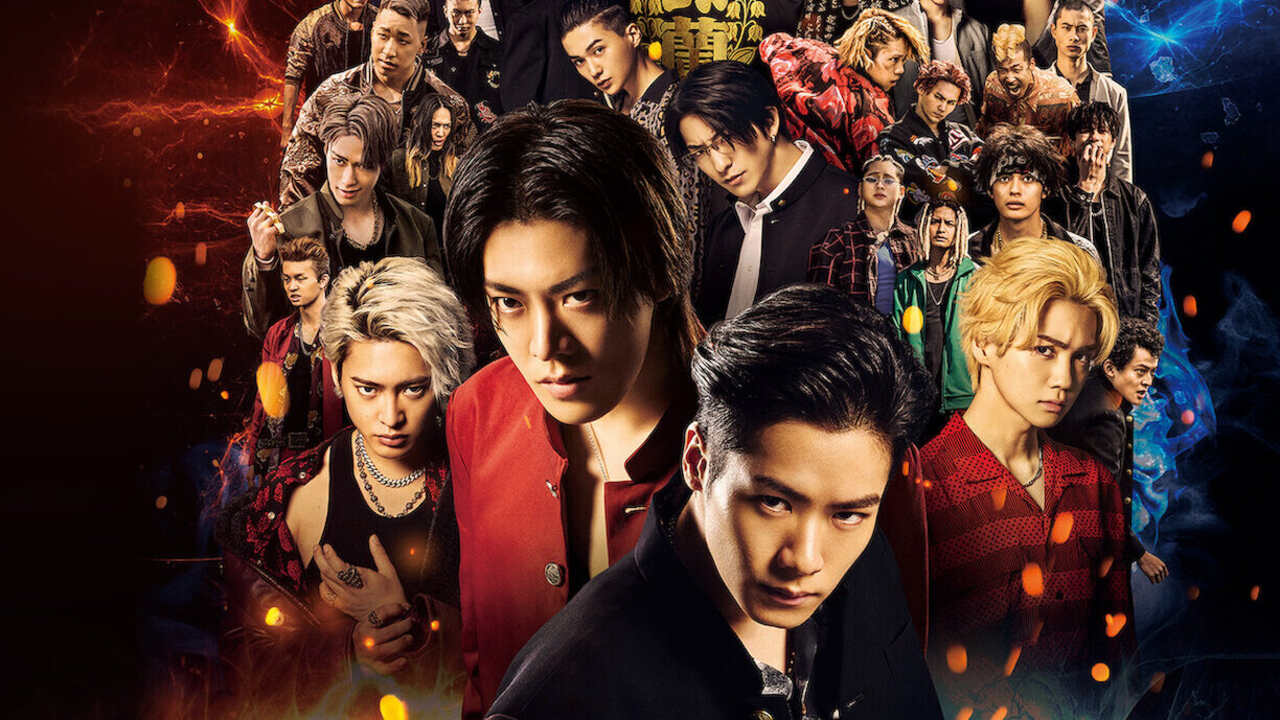 High & Low: The Worst X is an average movie, overall. What stood out to me is the genre. If you see a bunch of high school kids, it usually involves the start of a horror movie or a chick flick. However, this movie was realistic in the sense that the kids weren't smooching faces. Them ruling their high schools, however, wasn't that realistic after all.

The plot follows a feud between high schools in a particular area. Oya High School (from the original High and Low) is next to Senomon Technical School. The head of Senomon, Kohei, has a three-way alliance with Kamasaka High School and Evara Commercial High School. Their goal is to ultimately take down Oya High School and the head- Hanaoka Fujio. Fujio, on the other hand, ends up in trouble of his own making when he wanders off to challenge Suzuran's leader, Lao due to his bad boy reputation. Just then, Oya High School is suddenly attacked and Fujio is caught in a web of his own bad decisions. His lack of forethought and overlapping loyalties make people question him as a leader. The battle begins to decide the truly best school of all.

The overall plot is quite fun, although there are loopholes and some unanswered questions throughout the movie. However, there was a lot more room for character growth. Each conflict could be explored in detail and each character could be looked into properly if there had to be so many.

In my opinion, there were far too many characters, to begin with. I'm used to the handful of character names you have to remember but this movie seemed to make every other actor an important part. That being said, I do believe the cast was stunning. It just seemed like it was Baywatch all over again but instead of being lifeguards, they were a bunch of rude and villainous high school kids.

The Worst Cross is clearly a highly-budgeted film. It has a large number of big names in the industry which did well for its publicity but failed to focus on one particular character and evolve them into something better. It instead tried to take a huge handful and turn them all into someone else unanimously. Moreover, The Worst Cross is a very 'beat them up and bond over the injuries' movie. All that happened from the start to the end were a bunch of guys fighting it out. If you're looking for pretty boys fighting with each other and strategic placement of blood throughout, this movie is a great watch.

There isn't much focus on the commentary at all which makes the entire film seem bloodier if that's possible. You don't expect there to be much talking in action movies, do you? I thoroughly enjoyed the way the two lead characters developed by the end. It was a soulful moment and filled me with warmth.

All in all, I think it was a successful production and the plot could've been working on better. However, the song choices were brilliant and so was the cinematography.

Final Score- [6.5/10]
Reviewed by - Jess Doshi
Follow @JessDoshi on Twitter
Publisher at Midgard Times