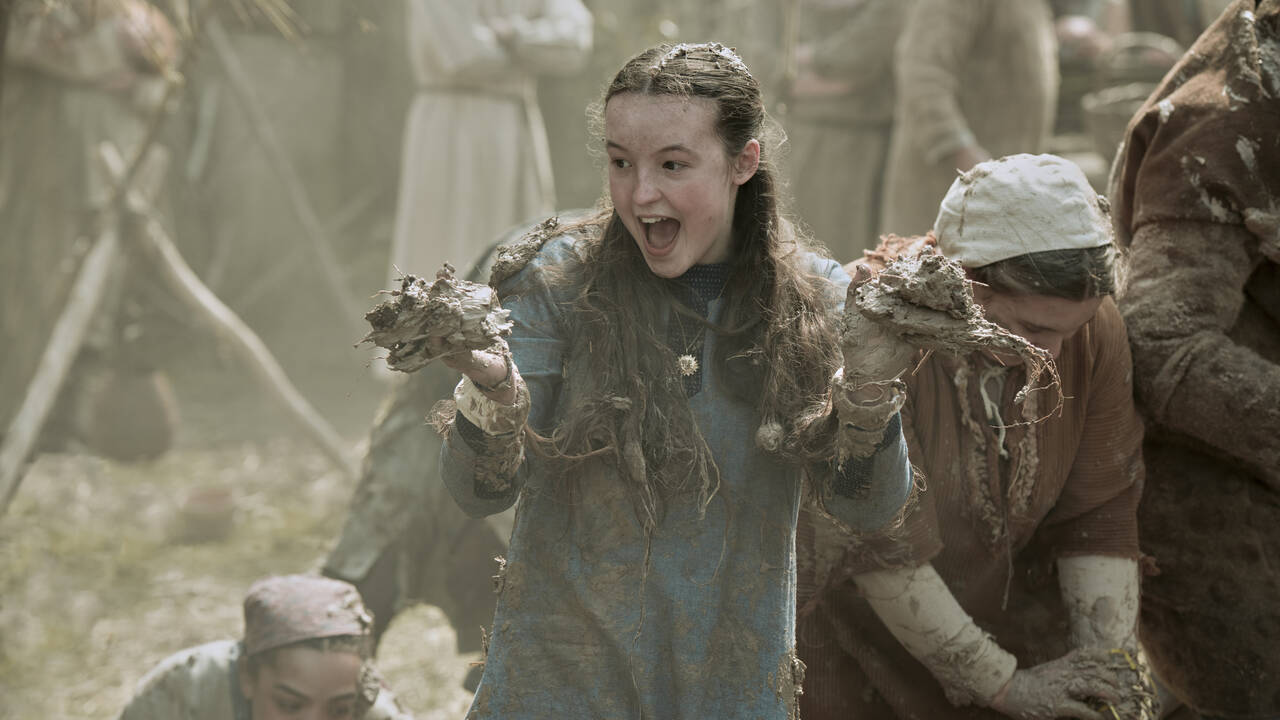 The very first thought one gets after watching Lena Dunham's Catherine Called Birdy is, "Hmm, that title does sound odd." And you see what's wrong with the title when you find out the name of the book this film is based on: Catherine, Called Birdy. The comma matters. The title of the 1994 novel informs us that there is someone named Catherine, who is also referred to as Birdy. On the other hand, the title of the movie leads you to expect communication between Catherine and Birdy.

And who is this Catherine/Birdy (Bella Ramsey)? She is the daughter of Lord Rollo (Andrew Scott) and Lady Aislinn (Billie Piper). Why is she called Birdy? Perhaps, because she has many birds as pets. But this answer does not fit into the progressive, you-go-girl narrative. You see, Catherine is like a little bird who wants to fly. She wants to pick up a sword, go on an adventure, or be a knight. Basically, she wants to do whatever she desires. But the adults around her want to clip her wings. Her father especially wants her to quickly get married. A profitable union would clear the debts, which is why suitors are invited to see Catherine.

Catherine is naughty as well as a rebel. She plays in the mud, eavesdrops on private conversations, and scares away her suitors. Rollo's beatings across her hand with his rod don't do much to dampen her spirits. Catherine is 14 and lacking in sex education. When she gets her first period, the blood makes her think she is about to meet death. "I must say my goodbyes and get on with good humor. I will go bravely and with God in my heart. Please give my brooch to my future sister. And my Bible to my brother Edward, and tell him that I'm sorry I got pudding upon the pages," she says solemnly to Morwenna (Lesley Sharp), her caretaker. Just wait until you hear what she has to say about how women get pregnant.

One of the joys of watching Catherine Called Birdy is that we get to be in the company of Catherine. Ramsey gives an electrifying performance. The adults might want her to become a poised lady, but the movie allows her to be delightfully childish. Not only that, but Catherine Called Birdy goes one step ahead and derives its volatile charge from its leading lady. The mood occasionally swings between mirthful and miserable, but the actors prevent this movie from collapsing. Fart and lame jokes stay on the same surface with scenes of pain and heartbreak. There are no nasty bumps or any other jarring sensations. If you chuckle after knowing that a man wears his armor to bed, you also wince while seeing a pregnant woman in pain.

Many historical dramas are obsessed with accuracy. Dunham, though, doesn't mind throwing in songs like My Boyfriend's Back and This Girl is on Fire. The needle drops can become too much to bear, but thankfully, we have someone like Ramsey to divert our attention away from unpleasant elements. Frankly, each and every actor is committed. No one is sleepwalking for the sake of a paycheck. This is why the characters come across as flesh and blood and not as expressionless people posing in medieval costumes. Catherine Called Birdy often hints at something darker but refuses to fully go in that direction. The climax may seem too easy and convenient, but it aligns with the scene where Catherine discovers something about her brother. Both moments shatter Catherine's perception regarding her family members. She eventually becomes a selfless person. However, given the quirky design, the film inserts a moment of humor in her good deeds (look out for a bird who suddenly drops dead on the ground).

Catherine Called Birdy may have some imperfections, but it also has its charms. It has feverish energy that captures your attention and rewards you with amusements.

Final Score – [7/10]
Reviewed by - Vikas Yadav
Follow @vikasonorous on Twitter